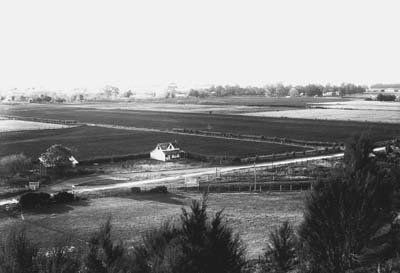 When James Rutherford married Martha Thompson on the 28th April 1866, James' father George surveyed off the little plot of land for James to build a house. The house had been demolished prior to Rutherford's 1925 visit to New Zealand. It had no veranda when Rutherford lived there and he couldn't recall living there, being five and a half when the James Rutherford family shifted to Foxhill.

There are only two known photographs of this house, both taken c1921 when it was in a derelict state and the photographers heard that the house was in the process of being pulled down. The uprights were rotten but the weatherboards were reused to rebuild the house next door, which had been his Uncle Andrew's house. The rebuilt one survived into the 1990s before being demolished.

The one showing the wider background was taken by W. C Davis, the Cawthron Institute photographer (1920-1945) (Neg 698). When blown up, the roofing iron covering the wooden slat roof had gone and a ladder shows where. The close-up snap was taken slightly earlier, whilst the iron was going, by Rutherford's niece, Rita Snowden, who gave me the photograph.

At the time when the Rutherford Birthplace Memorial was contemplated a 2/3rds size copy of this house was built at Founder's Park



Foxhill House (1877-1883) Location map.
The Foxhill house was over the road from the old Foxhill School, now the Rutherford Memorial Hall. It had 12 rooms and a large orchard as it was built to be a stop for the Nelson to West Coast stagecoach. James' little farm ran down to the Waiiti river and gave the children a great place to grow up. The older children had chores, such as gardening, fetching firewood, and miking the cows. (The cow's tale saga occurred there.)

About 1969 the wife of the then new owner, Joe Brooks, wanted a modern house because the old one, though physically solid, had no modern facilities and poor wiring etc.

Joe employed local man Cyril Higgins to demolish it. I spoke to Cyril in 1981. The house proved too solid for Cyril's little 8-ton bulldozer, so demolition was completed by burning.

The little roadside Rutherford memorial is outside the Rutherford Memorial Hall.



Havelock House (1883-1888) Location map.
This is the only photograph of the Rutherford's Havelock house, taken after it had been demolished by two men and a horse. James had been at the flax mill in Pelorus Sound for two years before his family arrived. They wanted a house in town so rented a house on The Terrace, opposite the road to the wharf.

This is almost certainly a print of the photo at Havelock Museum No 1120.



Pungarehu House (1888-1895) Location map.
James Rutherford built the house at the flaxmill during 1888, during which the family stayed with relatives in New Plymouth.

This first view (G. H. White, New Plymouth) from a nearby hillock shows the house, the flax mill and the Tasman Sea. It was Ernest's family home during his last two years at Nelson College(1898-9) and his years at Canterbury College (1890-5). The steamer from New Plymouth to Wellington used to sound its horn when passing with Ernest on board.

It was the home of his parents during his 1900, 1905 and 1914 visits to New Zealand. James and Martha retired to New Plymouth before his 1925 visit.

I took the colour photo in 1979, when the house was derelict and partly demolished. Shortly thereafter it was burnt down.



Christchurch House (1892-1895) Location map.
For his first year or two at Canterbury College (1890-1895) Ern was in digs, at one time in Salisbury Street with Jack Erskine. Around 1892 he took digs with a widow Mary Newton at Carlton Mill corner. She had come from a good family, her father was the first town Clerk of Christchurch, but was temporarily impoverished by her husband's death in 1888, mainly through alcoholism. To make ends meet she took in student boarders. There are no known photographs of the house as it was in his time, though his wedding photo of 1900 was almost certainly taken in its gardens.

After a rich relative died in Ireland the house was added to considerably and later became the offices for her son Charles, a medical doctor. Later it became a hostel for Canterbury College, then the regional headquarters and trainee teacher hostel for the Education department who named it Hogben House. Later still when they shifted it was placed on the market for removal. Knowing the fate of all other houses in New Zealand with a Rutherford connection I wrote a facetious letter to the editor (17/3/84) saying the owner should stop wasting peoples time and just demolish it, as had happened to all other houses with a Rutherford association. Just to show that the little man can have an effect, the next advertisement listed it as historic. It was sold for removal. I never bothered to determine its subsequent location. If someone knows let me know to add here.

The site is now occupied by the Strawberry Fare restaurant.



Originally Ern had digs with a widow at 49 Park Street. It was surrounded by houses so for his February 1897 long distance wireless telegraphy experiments he used as his detector location his mate's house (John Townsend) in Park Parade which overlooked Jesus Green.

After the summer of 1897 he moved into new digs in Trinity territory, with a tailor at 16 St Johns Road. I dont know of any photographs of the time of either house and both were demolished.

During each summer he moved into undergraduate rooms at Trinty College.

In 1979 I interviewed Tressilian Charles Nicholas (1888 - 1989), then in his 90s and a Fellow of Trinity College, the only one who had been a Fellow in Rutherford's day. As a single fellow he had rooms for life. He had been senior bursar (1929 - 1956) and thus guided Trinity College's finances, including purchasing the land on which Felixstowe Docks were later built. On his death he asked his only memorial be his initials cut into a pebble near Trinity's front gate.





Rutherford's house in Montreal, in March 2008 and May 2007.

Initially he had boarded and didn't hire his own terraced house with a small rear garden until after his marriage in 1900. It was at 152 Rue Sainte Famille, since renumbered to be No 3702, a short walk from the physics department. It survives today though its neighbour has been demolished.

In 1905 Ern purchased his own block of land in the village of Côte-des-Neiges, now a suburb of Montreal. He planned to build a house on it but his wanting to be nearer the centre of physics (Europe) got in the way and he sold the land in 1911, after his 1907 shift to Manchester.



Rutherford's rented house at 17 Wilmslow Rd (1916) and renumbered (No 409) and rebuilt (2013).

This house was along the main road, 4 kilometres from the university. It had a large garden for young Eileen. More recently, the 70s, it housed the Union of Communication Workers then became quite derelict. More recently it was rebuilt and added on to along with its neighbours to become part of the very upmarket Rutherford Lodge. The Blue plaque, noting the house was historic and had been the residence of Lord Rutherford O.M., has been on the house as long as I have been aware of it. It is now 4 stories, including the basement flat, and extended into the garden.



Celyn Cottage June 1929 and March 2008.

With the award of the Nobel Prize in Chemistry in 1908 Rutherford could afford a car and began his motoring career. This allowed Ern to hire a holiday house, Celyn, for regular country breaks from the grime of Manchester. Celyn is a 17th century Welsh Longhouse in Snowdonia National Park, between Lake Gwynant and Lake Dinas, on the A498 road, a two hour drive from Manchester.

Ern continued to use Celyn into the Cambridge II period. It was to Celyn that Ern and Bay De Renzie went in 1931, the first week to write letters replying to messages of condolence concerning daughter Eileen's death (23rd Dec 1930) and the second to write letters replying to messages of congratulations following his elevation to the peerage (New Years Day Honours List 1931)

It is still available for letting as a holiday cottage.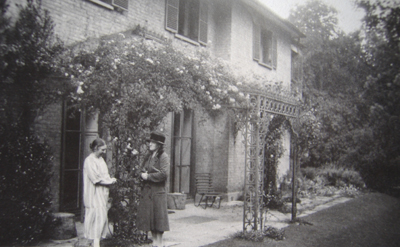 Lady Rutherford and a visitor at Newnham Cottage (date unknown), and the cottage in 2003.

During a pre-move visit to Cambridge, May and Eileen liked Newnham Cottage in Queens Road, opposite the backs of the Cambridge colleges. Ern only leased the cottage. It was owned by Caius College and was derelict. He commissioned a builder to rebuild it. A builder's strike meant that they were not able to move in until December of 1919.



Parents' Retirement House, New Plymouth (19xx-1935) Location map.
When James Rutherford retired from the Pungarehu flax-mill, Ern's parents moved to New Plymouth, to 40 Fillis Street, which backs on to Pukekura Park. Ern and May stayed there during their 1925 visit to New Zealand. May was used to servants so placed her and Ern's shoes outside their bedroom door. James, who had none, polished them himself.

It is the only house in New Zealand with a Rutherford association which has not been demolished or, in the case of the house he boarded in in Christchurch, shifted. The brown balcony is new since I first saw this house in the 1970s. (Photo taken 2020 by Kelvin Day.)



Ern and May at the newly completed Chantry Cottage 1934.

Celyn became too far to drive from Cambridge. Hence in 1934 Ern purchased a block of land near the village of Chute (Wiltshire). It was part of farm called New Zealand, so called because it was a long way away from anywhere. There he built Chantry Cottage.

He had little time to enjoy it, as he died on the 19th of October, 1937. Chantry Cottage was the only house Rutherford ever owned.