To be added to as I get time.

Brightwater House (1871-1877) Location map.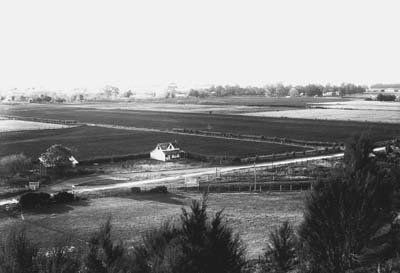 When James Rutherford married Martha Thompson on the 28th April 1866, James' father George surveyed off the little plot of land for James to build a house. The house had been demolished prior to Rutherford's 1925 visit to New Zealand. It had no veranda when Rutherford lived there and he couldn't recall living there, being five and a half when the James Rutherford family shifted to Foxhill.

There are only two known photographs of this house, both taken c1921 when it was in a derelict state and the photographers heard that the house was in the process of being pulled down. The uprights were rotten but the weatherboards were reused to rebuild the house next door.

The one showing the wider background was taken by XXX Davis, the Cawthron Institute photographer (Neg 698). When blown up, the roofing iron covering the wooden slat roof had gone and a ladder shows where. The close-up snap was taken slightly earlier, whilst the iron was going, by Rutherford's niece, Rita Snowden, who gave me the photograph.

At the time when the Rutherford Birthplace Memorial was contemplated a 2/3rds size copy of this house was built at Founder's Park



Foxhill House (1877-1883) Location map.
The Foxhill house was over the road from the old Foxhill School, now the Rutherford Memorial Hall. It had 12 rooms and a large orchard as it was built to be a stop for the Nelson to West Coast stagecoach. James' little farm ran down to the Wai iti river and gave the children a great place to grow up. The older children had chores, such as gardening, fetching firewood, and miking the cows. (The cow's tale saga occurred there.)

About 1969 the wife of the then new owner, Joe Brooks, wanted a modern house because the old one, though physically solid, had no modern facilities and poor wiring etc.

Joe employed local man Cyril Higgins to demolish it. I spoke to Cyril in 1981. The house proved too solid for Cyril's little 8-ton bulldozer, so demolition was completed by burning.

The little roadside Rutherford memorial is outside the Rutherford Memorial Hall.