Odds and Ends
Also check "Not So" for those things with Rutherford in the name which aren't named for Ernest Rutherford.
1960 - South Pacific Airlines of New Zealand (SPANZ) - DC3 Viewmaster - ZK-BYD - Ernest Rutherford
This Douglas DC3/C47A-60-DL Dakota had a long and interesting history.

Built at Long Beach in 1943 (number 43-30755) as number 13906 of the Douglas production list.
It served initially in the USAAF, 21 Troop Carrier Squadron.
On 23 August 1943 it was transferred to Australia where it served with the Pacific Air Transport Command, the US Navy, and 21 Troop Carrier Squadron.
On 8 September 1945 it was transferred (sold?) to Australian National Airways and underwent conversion for civil use.
On 22 May 1946 it entered airline service as VH-ANK Lutana (Aboriginal for Moon). VH is the registration suffix applied to Australian aerocraft.
On 12 September 1946 it was leased to (later purchased by) Guinea Airways as VH-AVL Bulolo (A New Guinea town).
On 31 May 1954 it was taken over by Queensland Airlines and renamed Maranoa after a Queensland river, and operated by them until 1960.
On 5 February 1958 it was purchased by Ansett Transport Services.
On 1 April 1960 it was transferred briefly to Airlines of New South Wales.

SPANZ (South Pacific Airlines of New Zealand was formed in 1960 by two ex-pilots of NAC (National Airline Corporation) Rex Daniell and Bob Anderson. They pioneered mid-flight meals and scheduled flights to major seconday towns.
After Ansett purchased shares in SPANZ, the DC3 underwent a conversion to Viewmaster specifications (large windows for tourism) at Archerfield, Queensland.
On 2 December 1960 the DC3 Viewmaster arrived in New Zealand, re-licensed with a New Zealand registration number ZK-BYD.
On 14 December 1960 it started scheduled services as SPANZ's flagship and was named Ernest Rutherford early in 1961.
Two other Viewmasters were named Jean Batten and George Bolt, both early pioneer aviators in New Zealand.

On 28 February 1966 SPANZ ceased operations, by which time ZK-BYD had amassed 42,922 airframe hours. It was stored at Auckland Airport and ownership was transferred to Aviation Sales (NZ) Ltd.
On 11 July 1967 it was flown to Australia and ownership transferred, as XW-PFA, to Air America, the clandestine airline of the CIA's secret war in Laos.
It was given to General Vang Pao's Xeing Khouang Air Transport then sold to Lao United Airlines in 1969?, and Lao Air Charter in 1972 and current to 1975.
Vang Poa, a Hmong leader and CIA financed "war-lord" immigrated to the USA in 1975 when the communists seized power in Laos. He had 25 children by several wives.
In 4 June 2007 he was arrested for plotting a coup to overthrow the Government of Laos, released on bail of $1.5 million on 12 July 2007, and the US government dropped all charges on 18 Sept 2009.
He died aged 81 on 6 January 2011.

It is reasonably certain that ZK-BYD was destroyed in a storm in Vientiane, Laos, on 24 March 1976.

(The information on the aircraft is mostly from the Douglas Production List (Long Beach) and the book "South Pacific Airlines of New Zealand and their DC3 Viewmasters" by Richard Waugh and Peter Layne ISBN 8-473-07183-5.) I thank Richard and Peter for their researches on this plane and its history.
Photo courtesy of Graham Gribble via Richard Waugh.
2011 - Qantas - Boeing 737-800 ZK-ZQG - Ernest Rutherford
A poll of Qantas staff was held to suggest names for the seventh and eighth Boeing 737-800 aircraft scheduled to be delivered to Qantas for trans-Tasman operations.
The names Ernest Rutherford and Charles Upham were chosen.

The Rutherford family gave approval for the naming on 4 May 2011.
Boeing 737-800 ZK-ZQG came off the production line at Boeing on 27 May 2011.
It was delivered to Qantas, 22 June 2011 and went into service on 28 June 2011.

It is a coincindence that 2011 was the centennial of Rutherford's discovery of the nuclear atom.

(Photo:- Bill Mallinson)
The City of Cambridge Brewing Company launched this contract brewed beer in 19xx to honour Rutherford
It makes an interesting and pleasant libation for a visiting scientist.
First in the Old Ales/Strong Milds category of the 25th Cambridge Beer Festival (1999?), Atom Splitter has an ABV of 4.5%.
(www.cambridge-brewery.co.uk).
Canadian Science and Technology Hall of Fame
Ernest Rutherford was inducted into the Canadian Science and Technology Hall of Fame on the 26th of April 2007.
There were two other inductees that year (Chalmers Jack Mackenzie and Hubert Reeves).
Amongst those present were Mary Fowler (Rutherford's great-granddaughter), Arthur Carty (Scientific Advisor to the Canadian Government), David Lockwood (NRL and nominator of Rutherford), myself, and many people representing science and Technology in Canada.
The Canadian Science and Technology Hall of Fame was established by the National Research Council to mark its 75th Anniversary in 1991, the suggestion of Dick Bougeois-Doyle.
Initially it was in the corridor of their headquarters building, at 100 Sussex but, after 5 years, NRC decided it needed a higher profile.
In 1996 it was shifted to the Canadian Museum of Science and Technology in order to make it more accessible to schoolchildren and the public.
Rutherford was the 40th inductee.
The large central crater of the photo is Rutherford.
Off picture to the northeast are craters named Becquerel and Curie.
Rutherford is located at 19.2N, 10.7W and is 110.5km in diameter.
It was named in 1973 after "Ernest Rutherford, British Physicist 1871-1937."
Rutherford is located at 10.7N, 45.1W and is 13km in diameter.
It was named in 1976 after "Sir Ernest Rutherford, British Physicist; Nobel Laureate (1871-1937)."
It is an insignificant crater just outside the rim of the Mendeleev crater.

Crater Schuster 4.2N, 33.5W, named for Sir Arthur Schuster who stepped down in order to attract Rutherford back to England (Manchester) in 1907, is nearby.
Mineral - Rutherfordine (UO2)CO3
This yellow mineral, uranyl carbonate, from the then German East Africa was named for Rutherford in 1906 by Dr Marckwald (centralblatt Min., 1906 p763 - Rutherfordin).
Its crystal structure is orthorhombic Pmmn with a = 0.485nm, b = 0.9205nm and c = 0.4296nm. Z=2. Density 5.7g/cm3.
Normally yellow to amber lathe like crystals up to 3mm in length. It has been reported in Tanzania, Zaire and the Northern Territory of Australia.
Note that the mineral Rutherfordite is not named for our Ern but for Rutherford County, North Carolina.
Lord Rutherford Park, Brightwater, Nelson, New Zealand, is a Tasman District Council reserve not far from the place of Rutherford's birth.
In May of 2008 the Tasman District Council purchased another 9000 square metres of adjacent land, to add sports fields and a cricket field to the park.
Parc Rutherford, McGill University, Montreal, Canada, is build on the top of the McTavish reservoir. It has a football field and in winter is used as a dumping ground for snow.
Ernestlordrutherford, a gelding - sire Soky's Atom, dame Elysian Fields, foal date 29th Feb 2001, was registered 29th May 2002 and qualified for all weather racing at Rangiora on 20th June 2006. It had its first win at the Rangiora Harness Races 3rd Race 15th July 2006. He was named by owners Denise Bourne and Doug Martin, and trained by Andrew McPherson of Woodend. His stable name was Ritchie after Ritchie McCaw, the captain of the All Blacks rugby team. (Rutherford played lock in his rugby playing days at Nelson College and Canterbury College.)

It had a lifetime record as a 4, 5 and 6-year-old of 45 starts, 5 firsts, 8 seconds and 5 thirds with net stakes won of $52,474. It last raced on 29th February 2008 at Hororata, and was later sold or given away as a hack. Ernestlordrutherford has been described as a good honest racehorse, but not of the top rank.
Retirement Village - Ernest Rutherford - Nelson - NZ
The Ernest Rutherford Retirement Village, one of many Ryman Healthcare retirement villages named for well-known New Zealanders, was opened on June 20th 2008.
It is at 49 Covent Drive, Stoke, Nelson, and has 112 independent living townhouses, 48 assisted living serviced apartments, and 77 care centre (rest-home, hospital, dementia) beds.
Rotary Club of Rutherford Nelson - NZ
This Rotary Club was chartered on the 9th of October 1981 as the Rotary Club of Nelson Central and had its first meeting on the 13th of October 1981. Because of the similarity of name to the Rotary Club of Nelson, in 2001 the members proposed the name be changed to The Rotary Club of Rutherford Nelson to honour Baron Rutherford of Nelson. The Board of Directors of Rotary International approved the name change on the 11th of December 2001. It meets at 5pm on Monday evenings.
Window - Stained Glass - St Mary's Church, Stoke Newington, London.
On the 15th of October 1940, a bomb destroyed many artifacts in St Mary's Church. On WhitSunday 1960, the new, stained-glass, north window was dedicated. It featured famous scientists. Rutherford is in the right hand panel and his nuclear atom is in the centre.
St Mary's Church is on Stoke Newington Church St, London, N16 9ES, opposite Clissold Park, about a mile from Stoke Newington Rail Station.
(Photographer - Jonathan Gebbie.)
New Zealand
Lord Rutherford Road, Brightwater, was renamed in honour of Ernest Rutherford who was born on that highway, part of the then main road (State Highway S6) between Nelson and the West Coast. To eliminate 4 right angle bends, and to avoid having the main road pass through the village, the Brightwater Bypass was constructed. This used the old Nelson to Wakefield railway line which had been closed in 1956. It divided Lord Rutherford Road into North and South. The Rutherford Birthplace is at the junction of the Brightwater Bypass and Lord Rutherford Road (North).
Rutherford Street, Nelson, was re-named so sometime between 1939 and 1945. It is surmised it was named for Rutherford who died in 1937. Previously called Waimea Street, it needed renaming because of confusion with Waimea Road. There was talk at the time of a memorial to Rutherford. This may be it. Further details would require a search of the NCC minute books for the war period. This would be simplified by a newspaper search for the advertisements of a business, located in the street, which advertised on a regular basis.
Rutherford Street, Woolston, Christchurch. Princess Street in Woolston was renamed Rutherford Street from the 1st of Sept 1948 when the Woolston Borough Council was amalgamated into Christchurch City which already had a Princess Street. Rutherford Street is assumed to be named for Ernest Rutherford though there is no confirming evidence in the council minutes for the 23rd of Aug 1948. It was just one of 137 streets renamed at that meeting. Just after the bend where Rutherford Street changes into King Edward Terrace is a private lane called Atom Lane. After crossing the Heathcote River, the other end of Rutherford Street terminates at Ferry Road.
Rutherford Drive, Waikanae Beach North, is in a subdivision contributed to by William and Lydia Pharazyn between 1967 and 2002. The last new street in the subdivision was named Pharazyn Drive. Several other streets were named for various relatives. Two, Rutherford Drive (1967) and Freyberg Crescent (1968), were named for prominent New Zealanders "apparently for no other reasons but their status." William Pharazyn features in the Dictionary of New Zealand Biography (www.dnzb.govt.nz).
Rutherford Street, Lower Hutt, was named "after the late Lord Rutherford" by the Lower Hutt City Council's By-Laws, Health, Library and Band Committee on the 2nd of April 1952.
Rutherford Street, Takapuna, was a new street in the Hughes block, off Eversleigh Rd. It was so named by the Works, Parks and Reserves Committee of the Takapuna City Council on the 12th of Oct 1954 at the recommendation of Cr Henderson. At the same time, he recommended a new street in the Sussex block be called Marsden Street. (Actually he proposed either Terrace or Street for both, the council selected Street for both.) Thus it is a reasonable assumption the street was named for Ernest Rutherford.
Rutherford Road, Marewa, Napier, was, according to Ian Mill's book on Napier Street names, named for Ernest Rutherford. I haven't sighted the council minutes. Marewa was planned in 1929-30 and developed in 1931-4. The Harbour Board were invited to name the streets which they did in the main after Harbour Board members, NZ Prime Ministers, a VC winner and some locals. Ian points out that there is also a Nuffield Avenue and this would be in keeping with an apparently policy of Napier of including scientists and industrialists amongst street names.
Rutherford Street, Hamilton, was, according to card M21 which seems to have been entered in 1981, named after "Baron Rutherford of Nelson" in 1963, by the subdividers of the land, Chedworth Park Ltd. The council minutes for 1963 need checking for confirmation.
Rutherford Street, Tauranga, is assumed to be named after Ernest Rutherford. Alex Gallagher, the developer of the Rutherford Street subdivision in 1951, wasn't sure who it had been named after but as there was no one named Rutherford associated with the development he assumes it was named for Ernest Rutherford. The Tauranga District Council was unable to find any mention of why Rutherford Street was so named.
Canada
Rutherford Ave, Deep River. During World War Two the British and Canadian nuclear energy programme was based at Chalk River, on the banks of the Ottawa River, an isolated area with a good water supply, two hours drive from Ottawa. Canada's first nuclear reactor first operated in 1945. Houses for the young scientists and engineers, and their families, were built at nearby Deep River (up-stream and up-wind of Chalk River) in 1944. Several new streets were named for prominent physicists. These include not only Faraday Cres and Kelvin Cres but also Thomson Cres (who discovered the electron whilst Rutherford was helping him with his experiments), Chadwick Drive (who discovered the neutron twelve years after Rutherford told him it had to exist), and Brockhouse Way (a Canadian awarded the Nobel Prize for the "Devlopment of Neutron Diffraction" at Chalk River.)
England
Rutherford Road, Cambridge.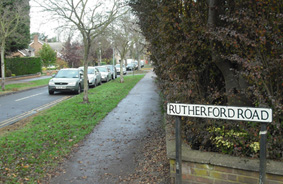 Follow Trumpington Rd, (A1134) south to where the A1134 turns left into Long Road. Rutherford Rd is 600m on the left. It is one of many roads, built on Trinity College land, named for illuminaries of Trinity College. ("Cambridge Street Names - Their Origins and Associations", Gray and Stubbings, Cambridge University Press, 2000.)
Germany
Rutherfordstrasse, in the Aldershof district of Berlin, is in a science park area which houses, for example, the Deutschen Zentrum fur Luft- and Raumfahrt (DLR, the German Aerospace Center). One block north of the Teltowkanal at Wegedornstrasse, Rutherfordstrasse's north end starts on Rudower Chaussee and its southern end terminates on Albert-Einstein-Strasse. Other scientists recognised by street names in this area include Max-Planck-Strasse and Gustav-Kirchhoff-Strasse to the east and Ludwig-Boltzmann-Strasse to the north.
Holland (Netherlands)
Rutherfordweg, in the Binnenhofbuurt district in the north of Rotterdam, is part of a development starting about 1985 which turned previous grass-land into houses and a shopping mall. Many other new streets were named for Nobel Prize-winners, including Debije-weg, Bohr-plaats, and Curie-plaats.
The Brightwater vineyard is the closest to the Rutherford Birthplace at Brightwater, Nelson Province, New Zealand.
They regularly market some of their wines under the additional name "Lord Rutherford", which makes a nice present for an overseas scientist. (www.brightwaterwine.co.nz).
Unit of Radiation - The rutherford (Rd)
As the person who brough precision to many measurements, Rutherford needed standards and championed international standards. In the meantime he needed his own. The general unit of radioactivity was the rutherford (Rd), the amount of radioactive isotope which disintegrated at the rate of a million disintegrations per second. At the start of the International Congress on Radiology and Electricity for 1910, Ern read a report on the necessity of establishing an international standard for radium. The congress set up a committee, of which Rutherford was a key member. The committee reported back at the final session recommending that a standard be established, that Marie Curie be authorised to produce the international standard radium sample containing about 20 milligrams of radium, that all countries produce their own standard which could be calibrated against the international standard, and that the standard be given the name curie (Ci) after her husband, the late Pierre Curie who had been killed instantly when he slipped and was run over by a horse-drawn dray in 1906. This was done.
The Curie was the number of nuclei which disintegrated in one second from one gram of radium (37 thousand million). So one rutherford = 1/37 millicuries. Initially the Curie was only used for radium. The rutherford was made redundant in 1953 and the curie in 1975. The unit of radioactive decay today is the becquerel, (Bq) being one disintegration per second. So one rutherford was a million becquerel.